---
Builders' Clean  –
W B Griffith's & son Ltd – Haverfordwest 
Trew's Cleaning Management is delighted to have won the contract for cleaning the new Haverfordwest Library situated in the centre of the town on the old Riverside Market site.
The work will include an in-depth builders' clean on all public areas which will be followed by a sparkle clean to ensure the building is as fresh as it can be for the hand-over to Pembrokeshire County Council. One of the main features of the renovation work is a glass walled café extension to the far end of the main building which will require a high spec internal and external window clean to maximise the impact of this high-profile feature.
Trew's Cleaning Management is quickly building a reputation across South Wales for quality work being delivered on time and to budget, the new Haverfordwest Library is the latest project to be added to the firms portfolio.
---
Builders' Clean –
Hale Construction – Millbay Home's James Park Kilgetty
Trew's Cleaning Management sent one of its professional industrial cleaning teams to complete a series of builders and sparkle clean for a new housing estate consisting of 15 houses and 19 bungalows. The team worked to a very in-depth cleaning specification that also included internal and external windows and frames.
Our Builders and Sparkle Clean service covers a wide variety of activities, essential for maintaining a safe building site whatever the project. Our team is flexible and customer focused, so we can adapt as your project progresses. Once the project is complete, our Sparkle Clean ensures your building or buildings are ready for handing over to their new occupiers, whether home owners, or businesses moving into office or industrial units.
Our cleaners are CSCS accredited and experienced in all aspects of Builders and Sparkle Cleans. For more about our service, visit our Building Clean page
---
Contract Cleaning –
Maggs Optics – Haverfordwest.

At Trew's Cleaning Management we offer a large variety of services to any type of business and understand that flexibility is key to being able to give our customers the excellent service that we pride ourselves on.
A good example of this is with a well known west Wales based opticians. Trew's Cleaning were contacted to give a quote for a twice weekly clean for their shop based in Haverfordwest. However, one of the main conditions is flexibly, as the days for the clean will not be fixed, this is to fit around the shop's needs. Of course, this was not a problem for Trew's as we ensure that we have an operative available for whenever we are needed in the week. For more information visit our contract cleaning page.
---
Exterior Cleaning –
Town Coast and Country – Haverfordwest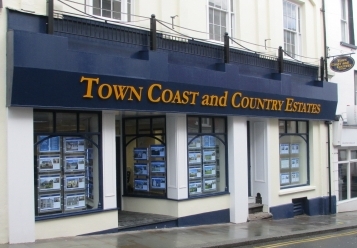 As part of our on going customer care promise here at Trew's Cleaning Management we keep in regular contact with all of our customers, this is to ensure that we are always delivering on our high standers and to keep customer relations good.
Because of this regular contact one of our customer's asked us if we could complete an external clean on there shop front. After a small consultation period with the customer on how they would like the job to be completed, Trew's then sent one of it's highly trained staff with specialist external cleaning equipment to this iconic Haverfordwest shop front to complete the delicate clean on the historic wood front. For more information on the services that Trew's can provide visit out our commercial services page.
---
Domestic Interior Wall Cleaning – Barnlake House – Burton
Trew's Cleaning Management have recently completed a specialist high level internal wall clean at Barnlake house.
An extensive risk assessment had to be completed before any tasks could start on site, this is because Trew's had to erect their movable scaffold tower within the work area to be able to reach the highest point of the ceiling. Once all the relevant risk assessments and checks were completed works could commence. The scaffold tower allowed one of Trew's cleaning operatives to gain access to all high-level areas that required cleaning. For more information on high level cleaning services please contact one of our dedicated staff on 01437454833 / 07891554704 or email hello@trewcleaning.co.uk